SKU : HS-WII219
6 Colors for your choose .
Can use for WII / WII U Console ,
Supports 4 Players Online .
With Silicone case .
6 Colors New 2 in 1 Built-in Motion Plus Wireless Remote Gamepad Controller with Nunchuck For Nintendo Wii / WII U Console With Silicone Case


Product Description :
Supports 4 Players Online :
You can connect 4 sets controllers to one console, so you can enjoy playing games with your friends.

Bluetooth Controller for Wii/Wii U Console :
This is a high sensitive and accurate Wireless Remote Controller that is compatible for Nintend Wii console.
It is suitable for Wii games and also supports for Wii U most of games.
Built-in speaker and motion plus, features vibration feedback functions.
Powered by 2 AA batteries (batteries are not included)

Note:It can't connect with PC .


Built-in Motion Plus :
The remote plus controller can respond to the slightest movement of the wrist to achieve greater results with cheaper movements,
accentuate your sense of touch while playing, increase accuracy and improve game control over compatible games.
The remote and nunchuck can be well used for wii and for wii u both,
the remote and the nunchuck can be applied separately to the original nunchuck for wii and for wii u.


Built-in Speaker :
Powerful speaker provides instant audio feedback. It can greatly enhance the immersive feeling.

Vibration Function :
We have designed vibration motor for this gamepad,
so that you can experience the joy of the game better!
Strong vibration feedback for a personalized gaming experience,
Let the player feels like they are on the battlefield.


Streamlined Design :
For Wii handle streamlined shell, the edge is very smooth; Handle Button press sensitivity, comfortable feel.
The gamepad is designed with 3D rocker, 360° high precision .
Comfortable cross key design for more flexible and accurate steering!
Ergonomic grip, Non-slip texture, matte feel, long-term grip is not tired.
This controller-style joy pad provides the ultimate control for your favorite games.
Positioning, sensitivity and accuracy are high.
Anti-slip silicone case, Protective silicone case protects the remote controller against everyday dust, scratches and broken.
You can enjoy the game without worrying about the controller broken or scratches. Convenient carry makes you more fun for Wii Games.
Specification:
Weight (Kg): 0.194
Dimensions (cm): 17 x 7.5 x 5
Package Contents:
Remote Controller for Nintend Wii(Optional) x1
Nunchuck Controller for Nintend Wii(Optional) x1
Wrist Strap(Optional)x1
Silicone Case(Optional)x1

Product Parameter:
Remote Controller (Black / White / Red / Dark blue / Pink / Light blue):
1.GW: 10.8kg
2.Quantity: 50
3.Box size: 40*34*32.5CM
4.Package size: 190*65*55mm
5.Single product weight: 86g
6.Single with package weight: 216g

Wired Nunchuck Controller (Black / White / Red / Dark blue / Pink / Light blue):
1.GW: 6.68kg
2.Quantity: 50
3.Box size: 41*34*24.5CM
4.Package size: 195*65*45mm
5.Single product weight: 67g
6.Single with package weight: 121g

How to Pair the Remote Controller with Wii/Wii U Console?
Step 1: Power on the console.
Step 2: Open the back cover of remote controller, then put into two new AA batteries.
You will find a small red SYNC button beside the battery slot. Press SYNC button,
FOUR lights (the Player LED) on the controller will flash.
Step 3: Open the SD slot on the console, you will find a red SYNC button next to the SD slot. Then press this SYNC button.
Step 4: Wait for a few seconds, the Player LED on the controller will stop flashing and light up when paring is complete.
The Player LED indicates the player number of the controller currently in use.
Note: For Wii/Wii U console, please open the Menu and then Follow the on-screen instructions and press SYNC on the controller to finish the pairing procedure.
Send us message if you have pairing problem.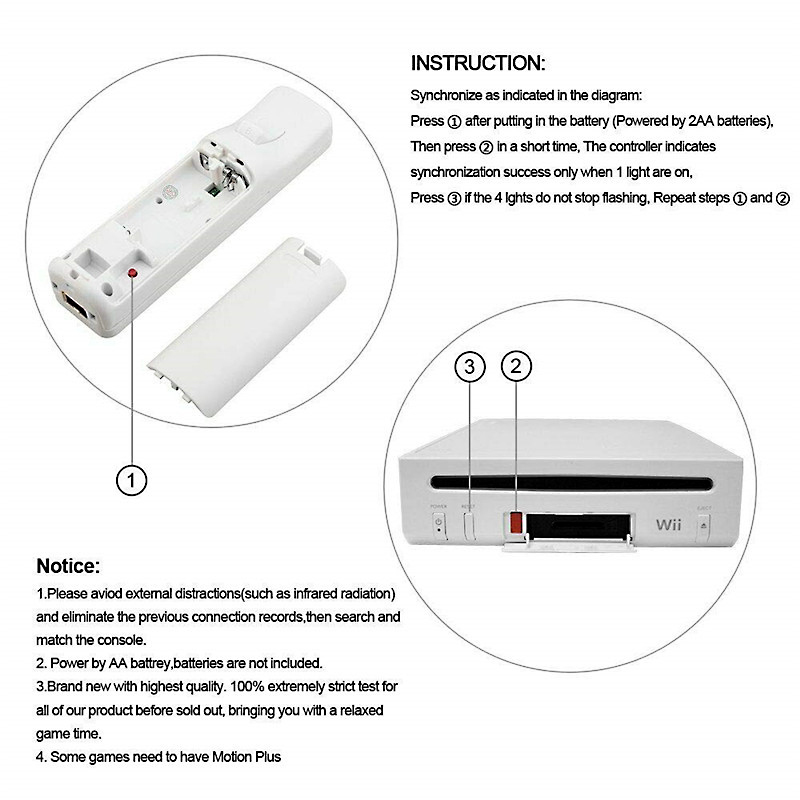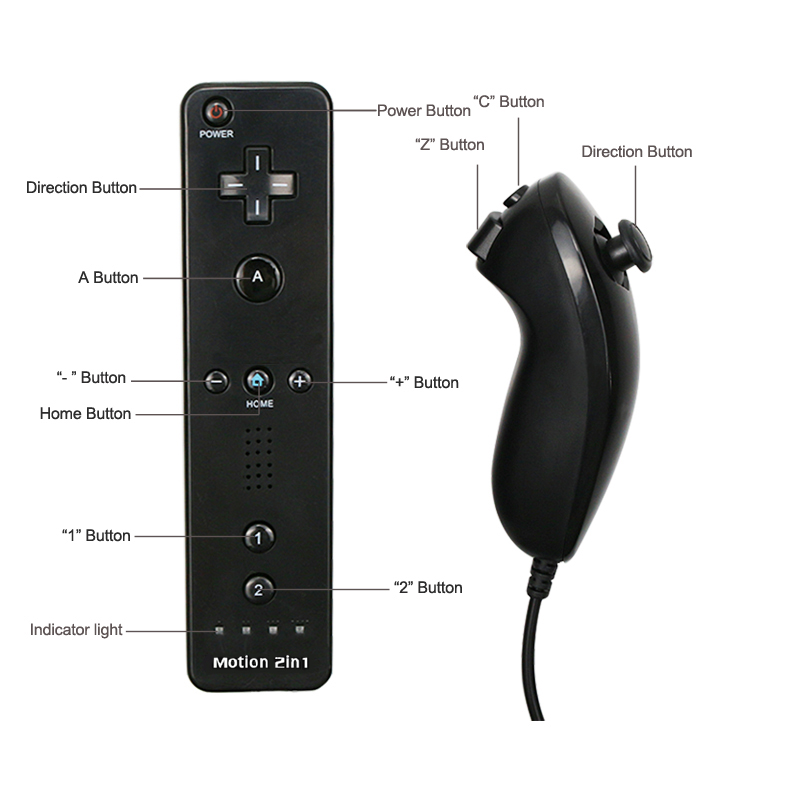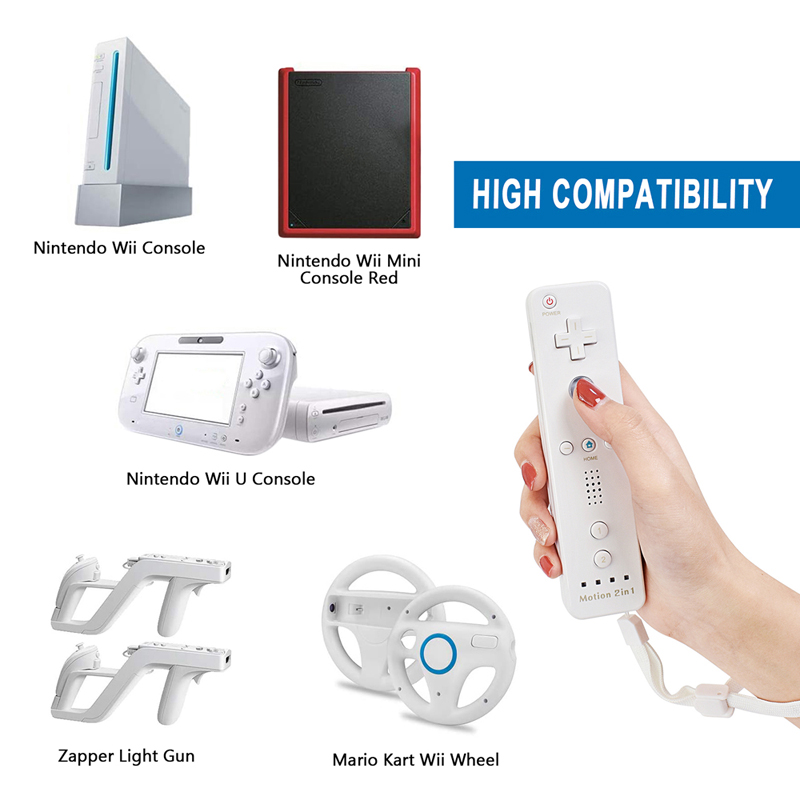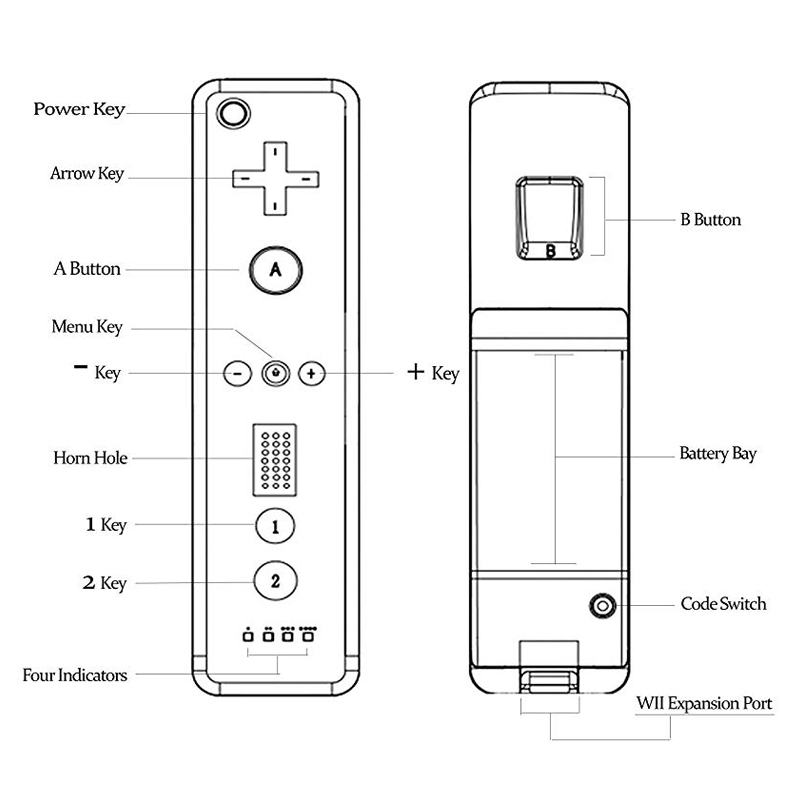 Product Detail: